Lisa Faulkner and John Torode served up tasty red cabbage with sprouts and roast potatoes for Christmas lunch sides on John and Lisa's Weekend Kitchen.
The ingredients for the red cabbage are: 1kg red cabbage washed, trimmed and finely sliced, 3 – 4 apples, peeled cored and cut into small chunks, 2 – 3 onions, peeled and finely sliced, 1 garlic clove, peeled and grated, 100ml chicken stock, 3 tbsp red wine vinegar or cider vinegar, 4 tbsp redcurrant jelly, 2 tbsp brown sugar, 1 heaped tbsp mixed spice, 1 tbsp butter, Salt and pepper.
For the roast potatoes : 1.5 kg floury potatoes, Maris Piper or King Edward, 5 tbsp veg oil and 1 chicken or vegetable stock cube.
For the sprouts : 750g sprouts (the bigger the better), Olive oil, 30g butter, 1 large banana shallot, diced, 1 tsp fresh thyme and 200g vacuum packed chestnuts, roughly chopped.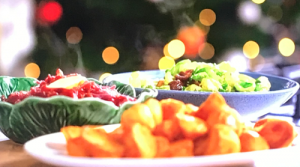 See recipes by Lisa in her book titled: The Way I Cook…
available from Amazon
now.