Juliet Sear served up a delicious sweet tart for bonfire night on This Morning.
The ingredients for the biscuit base: 200g digestive biscuits, ½ tsp cinnamon and 6og melted butter.
For the sponge: 125 g plain 70% chocolate, 150g light Muscovado sugar, 125g soft salted butter, 2 medium free-range eggs plus 2 yolks (save the whites for the topping) , 100g soured cream, 2tsp vanilla extract or paste, 150g self-raising flour and 25g cocoa powder.
For the topping : 12 tbsp (approx.) marshmallow fluff if cheating or 12 white vegan marshmallows, or marshmallow of your choice.
For the Swiss Meringue : 3 medium egg whites and 150g caster sugar.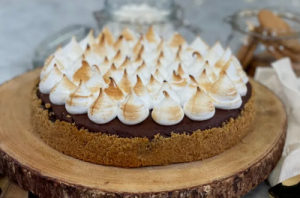 See recipes by Juliet in her book titled: Botanical Baking: Contemporary baking and cake decorating with edible flowers and herbs
AVAILABLE FROM Amazon
now.