Santiago Lastra served up tasty and speedy homemade fish tacos with pollock, chipotle cream and a cucumber and pistachio guacamole for Friday night supper on This Morning.
The ingredients for the batter are: 2 tsp Marmite, (optional), 180ml sparkling water, 8 tbsp plain flour, 2 tsp baking powder and ½ tsp salt.
For the cucumber and pistachio guacamole: 1 garlic clove, roasted and chopped, 1 serrano chilli pepper, or green Thai chilli, roasted and chopped, 1 onion, finely diced, ½ cucumber, diced, 2 lemons, juiced, 50g pistachio nuts, shelled, 6 mint leaves, finely chopped, 10 coriander leaves, finely chopped and Dash of rapeseed oil.
For the chipotle cream : 2 tsp chipotle chilli, 4 tsp mayonnaise, Sunflower oil, for deep-frying, 120g of pollock fillet, or any other white fish, cut into 4x2cm batons and Plain flour, for dusting.
To serve: 100g pickled red cabbage (can be brought in the supermarket), ¼ white cabbage, finely sliced, 6 flour tortillas (12cm ones if possible) and 1 fresh habanero chilli, sliced.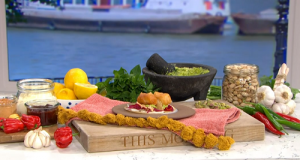 See more taco recipes in the book titled: Taco Recipes: Delicious mexican food available from Amazon now.