Judges John Torode and Gregg Wallace greets the new cooks on day 2 of the third week on MasterChef and put their cooking skills straight to the test to see who has what it takes to go the distance in the competition.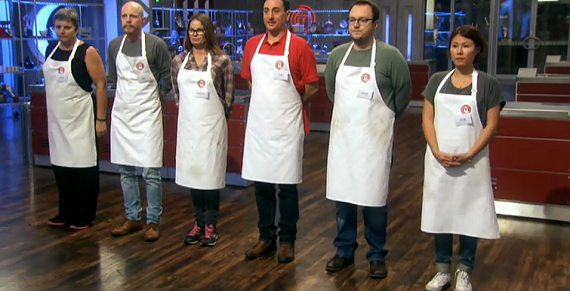 Meet the cooks:
Ping, 32, Full Time Mum
Ben, 33, Salesman
Carl, 39, Carer
Judy, 49, Personnel Assistant
Rebecca, 43, Full Time Mum
James, 28, Business Support Manager.
For their first challenge, the cooks must serve up their calling card, a practiced dish that represents who they are as a cook. The time limit for this task is just one hour and their goal is to dazzle the judges with one plate of food that showed just what they can do.
They then faced the infamous invention test, choosing between two sealed boxes of ingredients – one sweet and one savoury. Chef John Torode also takes on this challenge himself, showing the viewers at home just what is possible with the few ingredients. He makes a pan fried trout dish from the savoury box.
The sweet ingredients include coconut, passion fruit, white rum, limes, pudding rice, freeze-dried raspberries, mint and mascarpone; while the savoury box contains trout, a pork chop, baby red peppers, mushrooms, butter beans, carrots, coriander, samphire, thyme, rocket and an apple.
The cooks had just one hour to prepare a dish good enough to keep them in the competition before two are sent home.
The four remaining cooks faced one more challenge to obtain a place in the quarter-final. They had to cook an impressive menu for the 2007 MasterChef champion, Steven Wallis, joins 2012 champion Shelina Permalloo and 2006 finalist Dean Edwards.
After an intense couple of days cooking their hearts out, the verdict was in. The judges revealed the two cooks who will go on to the quarter finals to face even more pressure in the kitchen – Ping and James.