John Torode and Lisa Faulkner served up a tasty Jamaican inspired jerk chicken served with rice and peas on John and Lisa's Weekend Kitchen.
The ingredients for the chicken are: 8 chicken thighs, bone in , Juice of 2 limes and 1 tsp salt.
For the sauce: 1 tbsp oil, 1 big bunch of spring onions, chopped, 2tbsp ground allspice, 1 thumb sized knuckle of ginger, grated, 4 cloves of garlic, smashed, 2 tbsp Worcestershire sauce, 1 tbsp salt, 1-2 scotch bonnets, halved, 3 tbsp of brown sugar, 100ml stout and Bunch of fresh fresh thyme, tied with string.
For the rice and peas: 1 tbsp oil, 1 can of black eyed beans, 1 can coconut milk, 2 cups of rice, 1 small onion, chopped, 1 clove garlic, 2 tsp dried thyme, 1 scotch bonnet pepper, halved and Water (as many cups as needed to bring total quantity of liquid to 5 cups.).
To serve: Corn on the cobs.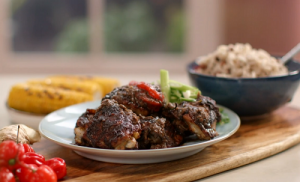 See recipes by John in his book titled: My Kind of Food: Recipes I Love to Cook at Home
available from Amazon
now.