Galton Blackiston served up a tasty luxury fish pie with monkfish, haddock, salmon, scallops, cod, prawns and potatoes with egg yolks on James Martin's Saturday Morning.
The ingredients are: 100g fresh peas sprinkled over the fish as it goes into the gratin dish, 1 monkfish tail – membrane removed and diced chunkily and fried, 300g undyed smoked haddock (kept whole and with skin on), 560ml milk, 1 sprig rosemary, 1 medium onion peeled and sliced, Rapeseed oil, 12 king scollops, 225g salmon fillet, skinned, acubed evenly into 3cm cubes, 225g cod filled, skinned, cubed evenly into 3cm cubes, 170g cooked peeled prawns, 140g salted butter, 110g plain flour, 300ml whipping cream, 3 hardboiled eggs chopped, 3tbsp mini capers, drained, rinsed of brine, 4 tbsp chopped parsley, 2 tbsp lemon juice, Sea salt and black pepper.
For the topping; 900g maris piper potatoes, peeled weight chunkily chopped, 150g salted butter, 6 tbsp milk, 4 tbsp double cream, 3 egg yolks, Sea salt and black pepper.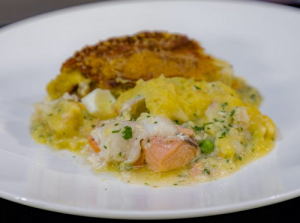 See recipes by Galton in his book titled: Hook Line Sinker: A Seafood Cookbook available from Amazon now.