Ruby Bhogal served up a delicious self-saucing chocolate sticky toffee pudding on Steph's Packed Lunch.
The ingredients for the sauce are: 300ml Boiling Water, 245g Double Cream, 225g Dark Brown Sugar, 100g Unsalted Butter, diced, 50g Dark Chocolate, chopped and Zest of 1 Orange.
For the sponge: 245g Medjool Dates, destoned, 300ml Boiling Water, 115g Unsalted Butter, room temp, 75g Dark Brown Sugar, 75g Light Brown Sugar, 1tsp Vanilla Bean Paste, 2 Large Eggs, 250g Self Raising Flour and 75g Dark Chocolate, chopped.
To serve: Vanilla Ice Cream.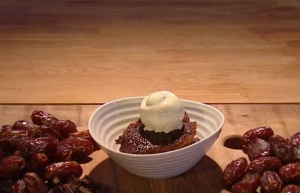 See more chocolate pudding recipes in the book titled: Chocolate Recipes: 50 Easy and Tasty Dessert Ideas for All Chocolate Lovers available from Amazon now.