Ainsley Harriott served up a delicious Jamaican gingerbread with black treacle and lemon sparkle icing on Ainsley's Food We Love.
The ingredients are: 300ml boiling water, 200g golden syrup, 175g black treacle, 1 tsp bicarbonate of soda, 120g unsalted butter, soften, 120 dark muscovado sugar, 1 large egg, beaten, 1 tbsp ground ginger, 1 tsp ground cinnamon, 1/4 tsp ground cloves, 1/4 tsp ground allspice, 350g self-raising flour, pinch of salt and 50g stem ginger, finely chopped.
Lemon icing: juice of 1 lemon, plus extra if needed, 250g icing sugar, sifted, plus extra if needed and Edible gold glitter stars, for decoration(optional)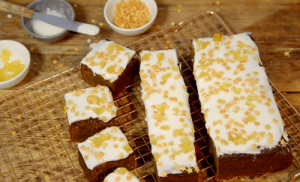 See Ainsley's recipes in his book titled: Ainsley Harriott's Friends & Family Cookbook: Over 200 Reasons to Eat In
available from Amazon
now.