James Martin showed how to make a tasty BBQ sauce with green tabasco sauce, chipotle chilli sauce and bourbon whiskey to serve with lamb chops on James Martin's Saturday Morning.
The base ingredients for the barbecue sauce are: brown sugar, ketchup, and vinegar.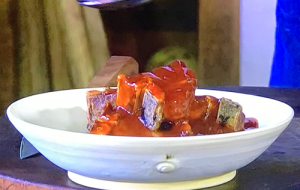 See BBQ recipes by James in his book titled: James Martin's American Adventure: 80 classic American recipes available from Amazon now.