Paul Ainsworth served up crab and squid ink linguine on James Martin's Saturday Morning.
The ingredients are: 1kg whole brown crab, 1 lemon cut into ¼, 1 onion roughly chopped, 1 leek roughly sliced, 1 carrot sliced, ½ fennel bulb roughly chopped, 2 sticks celery roughly chopped, 30g salt per 1 litre of water in a large pan, 150ml white wine, 4 cloves garlic crushed with skin on, 5 sprigs thyme, 1 bay leaf, 1 star anise and 6 parsley stalks.
For the linguine: 100g fresh white crab meat, 200g dried squid ink linguine pasta or fresh squid ink pasta, 85ml extra virgin olive oil, 1 red chilli de seeded and sliced thin, 80g pine nuts, 1 clove garlic sliced thinly, 1 lemon, 10 cherry tomatoes cut into halves, 50g fresh rocket, 20g fresh chopped flat leaf parsley, 50g Parmesan for grating, 1 pinch chilli flakes and Cornish sea salt flakes.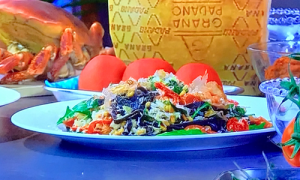 See recipes by James in his book titled: Home Comforts available from Amazon now.