Paul Ainsworth cooked a tasty Padstow crab BLT with semi cured tomatoes and tartar butter on James Martin's Saturday Morning.
The ingredients for cooking the crab are: 1kg whole brown crab, 1 lemon cut into ¼, 1 onion roughly chopped, 1 leek roughly sliced, 1 carrot sliced, ½ fennel bulb roughly chopped, 2 sticks celery roughly chopped, 30g salt per 1 litre of water in a large pan, 150ml white wine, 4 cloves garlic crushed with skin on, 5 sprigs thyme, 1 bay leaf, 1 star anise and 6 parsley stalks.
For the BLT: 200g fresh picked crab meat, 50g brown crab meat, 1 large brown wholemeal bloomer bread, , 5g mayonnaise, 1 baby gem lettuce, 6 rashes smoked streaky bacon (baked between two trays at180°C for 10/12 minutes until crispy), 6 semi cured tomato petals, 1 lemon, 1 lime, 20g chives chopped fine, 6 large basil leaves cut into strips, Extra virgin olive oil for drizzling and Sea salt.
For the Tartar Butter: 250g unsalted butter softened, ½ shallot diced fine, 20g parsley chopped, ½ lemon zest and juice, 40g capers chopped fine, 1 large gherkin diced fine and 1 pinch salt.
For the Semi Cured Tomatoes: 5 ripe red vine tomatoes, skins peeled cut into 1/4's and de seeded, 2 tablespoons castor sugar, 50ml sherry vinegar, 250ml extra virgin olive oil, ½ shallot diced fine, 4 thyme sprigs leave's picked, Salt and pepper to taste.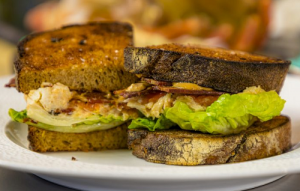 See recipes by James in his book titled: Home Comforts available from Amazon now.