James Martin served up slow-roasted spiced lamb shoulder with ginger honey and bulgur wheat on today's episode of This Morning.
The ingredients are: 4 tbsp olive oil, 2 tsp ground cumin, 1 tsp ground turmeric, 2 tsp ras el hanout, 1 tsp saffron strands and 2kg lamb shoulder.
For the sauce: 2 tbsp olive oil, 1 onion, peeled and diced, 5cm ginger, coarsely grated , 6 garlic cloves, peeled and chopped, 1 red chilli, chopped, 2 cinnamon stick, 4 tbsp honey, 500ml chicken stock, 800g tins chopped tomatoes, 3 fresh tomatoes, chopped , 150g dried fruits, I've used apricots and sultanas, chopped and 4 medium preserved lemons, chopped.
To serve: 1 small bunch mint, coriander and parsley, chopped.
For the bulgur whet: 50g shelled pistachios, chopped, 50g flaked almonds, 50g pine nuts, 50g dried apricots, chopped, 100g pomegranate seeds , 4 lemon juice , 100ml olive oil, 200g bulgur wheat, cooked as per pack instructions and allow to cool and 1 large bunch mint, parsley and coriander, chopped.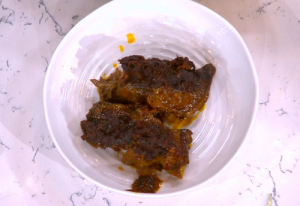 See recipes by James Martin in his book titled: More Home Comforts: 100 new recipes from the television series
, available at Amazon
now.