Liam Charles showcased his Yorkshire pudding falafel wraps with tzatziki yoghurt sauce for the first technical challenge in finals week on Junior Bake Off.
The ingredients for the batter: 100g plain flour, 2 large eggs, 200ml whole milk, ½ tsp salt, 1½ tbsp chopped flat-leaf parsley and 1 tbsp vegetable oil.
For the falafel: 1 x 400g tin of chickpeas, drained, ½ tsp ground cumin, ½ tsp ground coriander, ½ tsp cayenne pepper, ½ tsp salt, 1 garlic clove, ½ tsp bicarbonate of soda, ½ onion, roughly chopped, Small handful of flat-leaf parsley, Small handful of coriander, 1 tbsp sesame seeds and 2 tbsp olive oil, plus extra for greasing.
For the tzatziki: 60g cucumber, 100g Greek yoghurt, Juice of ¼ lemon, 1 small garlic clove, crushed, 1 tbsp chopped mint leaves and ¼ tsp fine salt.
For the filling: Handful of shredded iceberg lettuce, 4 pickled chillies, sliced, 6 pickled turnips, sliced, 2 dill pickles, quartered lengthways, 1 tomato, chopped, Juice of ½ lemon and 1 tbsp tahini.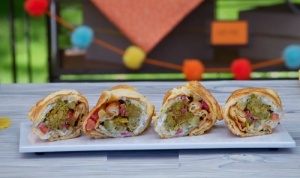 See Liam's recipes in his book titled: Liam Charles Cheeky Treats: 70 Brilliant Bakes and Cakes – by the breakout Great British Bake Off star
, available from Amazon
now.