Matt Tebbutt served up tasty aubergines stuffed with courgettes, green beans and red peppers with a peanut and sourdough topping and a peanut, soy and sesame sauce on Saturday Kitchen.
The ingredients for the stuffed aubergines: 2 small aubergines, dash olive oil, 1 banana shallot, finely chopped, 1 garlic clove, finely chopped, ½ courgette, finely chopped, 5 green beans, sliced, 1 red pepper, finely chopped and salt, to season.
For the topping: dash olive oil, 100g peanuts, 1 garlic clove, finely chopped and 100g sourdough crumbs.
For the peanut sauce: 2 tsp Szechuan peppercorns, 3 tbsp vegetable oil, 1 tbsp chilli sauce, 1 tbsp finely chopped ginger, 3 garlic cloves, finely chopped, 2 tbsp sesame seeds, 4 tbsp peanut butter, 1–2 tsp sesame oil and 1 tbsp soy sauce.
To serve: 1 bunch spring onions, tops shredded and 4 tbsp Thai basil.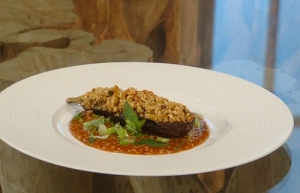 See recipes by Matt in his book titled: Matt Tebbutt's Guilty Pleasures: Your Favourite Sweet and Savoury Indulgences in 130 Easy Recipes
available from Amazon
now.