Liam Charles show cased his delicious mega choccy stack brownies with a pudding layer and sweet cream for today's technical challenge on Junior Bake Off 2021.
The ingredients are: 120ml olive oil, 1 tsp vanilla paste, 150g caster sugar, 90g light brown soft sugar, 3 eggs, lightly beaten, 40g cocoa powder, 1 tsp instant coffee powder and 75g plain flour.
For the chocolate pudding: 70g caster sugar, 20g cocoa powder, 25g cornflour, ¼ tsp fine salt, 330ml whole milk, 20g unsalted butter, diced and ½ tsp vanilla extract.
For the sweet cream: 200ml double cream, 30g icing sugar and 1 tsp vanilla paste.
To decorate: 75g 70% dark chocolate, grated.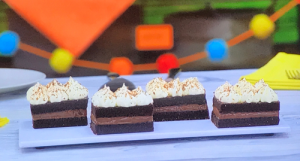 See Liam's recipes in his book titled: Liam Charles Cheeky Treats: 70 Brilliant Bakes and Cakes – by the breakout Great British Bake Off star
, available from Amazon
now.