Liam Charles showcased his poo biscuits with chocolate and marshmallows for today's technical challenge on Junior Bake Off.
The ingredients for the biscuits are: 50g plain flour, plus extra for dusting, ½ tsp baking powder, ¼ tsp fine salt, 25g cocoa powder, 25g wholemeal flour, 25g caster sugar, 25g unsalted butter, cubed and chilled, 1 large egg yolk and 2 tbsp whole milk.
For the marshmallow: 2 platinum-grade gelatine leaves,
2 large egg whites, ½ tsp vanilla paste and 150g caster sugar.
For the chocolate coating: 175g 70% dark chocolate, roughly chopped and 40g coconut oil.
To decorate: Ready-to-roll pink fondant icing and 8 edible sugar eyes.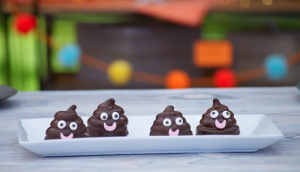 See Liam's recipes in his book titled: Liam Charles Cheeky Treats: 70 Brilliant Bakes and Cakes – by the breakout Great British Bake Off star
, available from Amazon
now.