Rav Gill showcased her delicious chess sponge layered cake with pistachios, vanilla and rose water for today's technical challenge on Junior Bake Off.
The ingredients are: 225g unsalted butter, 225g caster sugar, 225g self-raising flour, 2 tsp baking powder, 4 large eggs, 1 tsp vanilla extract, 2 tsp rose water, Pink food-colouring gel, 2 tsp pistachio paste and Green food-colouring gel.
For the buttercream: 550g icing sugar, 225g unsalted butter, softened, 4 tbsp double cream, 1½ tbsp pistachio paste and ½ tsp fine salt.
To decorate: Slivered pistachios and Rose petals.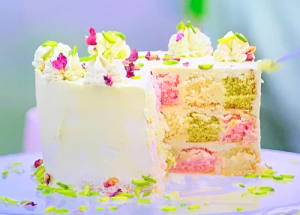 See recipes by Rav in her book titled: The Pastry Chef's Guide: The secret to successful baking every time
available from Amazon
now.