For her Cooking For A Crowd meal theme on Mary Berry Cooks, Mary makes two delicious deserts that she highly recommends for any dinner gathering. She makes meringue tranche with berries and cream and also chocolate and orange panna cotta.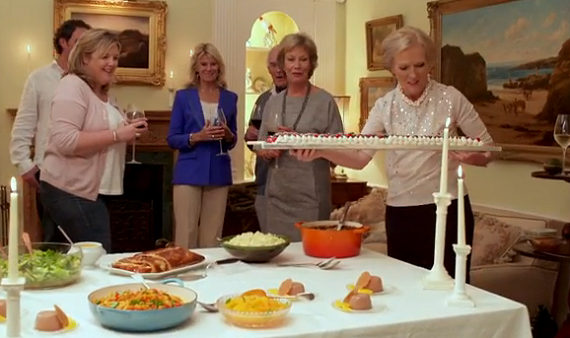 Mary says about her meringue tranche with berries and cream dessert: "This pavlova style dessert baked in two rectangles looks spectacular arranged down the length of the table and it is easy to serve. The meringue can be made days ahead too. Top with your favourite fruits."
The ingredients for the dessert are: 4 free-range egg whites, 225g caster sugar, 300ml pouring double cream, 200g full-fat Greek yoghurt, 900g raspberries and blueberries and icing sugar, to dust.
To make the desert, place the egg whites in a spotlessly clean bowl and whisk with an electric whisk until they form stiff peaks when the whisk is removed from the bowl. Continue whisking as you add the sugar, one teaspoonful at a time, until all the sugar is incorporated. The meringue will then become shiny and will hold stiff peaks when the whisk is lifted from the bowl.
Place the mixture in a large plastic piping bag and snip 1cm/½in off the end. Pipe the meringue into the rectangle shapes on the paper, then pipe little blobs along the long sides on top to make a rim. Or if liked, spread the meringue into the rectangular shapes.
Bake in a preheated oven at 120C for 1½-2 hours, or until the meringue can be lifted easily off the paper lined in the baking tin without sticking. Turn off the oven, leave the door ajar and leave until the meringues are cold.
Finally whip the cream in a bowl until it just holds its shape, then fold in the yoghurt and spread the cream mixture onto the meringues and top with alternate raspberries and blueberries. Dust with icing sugar.