Galton Blackiston served up a tasty Hampshire chalkstream trout with aligot potatoes, mussels and a tomato butter sauce on James Martin's Saturday Morning.
The ingredients are: 1 whole trout or 4 trout fillets, 2kg Maris Piper Potatoes. 125ml Double Cream, 125ml Whole Milk, 50g butter and 150g Grated Gruyere cheese.
For the mussels: 5 Cooked Mussels out of shell to plate, 50ml White Wine, 1 Shallot Sliced, 1 Clove of Garlic lightly Crushed, 1 Sprig Thyme and Rosemary, and Bayleaf.
For the tomato butter sauce: 2kg Ripe on the Vine tomatoes, 1 Tablespoon Salt, 1 Tablespoon Sugar, 1 Tablespoon Sherry Vinegar, ½ Bunch Basil, ½ Bunch Chervil, 250ml Tomato Consomme, 125ml Double Cream, 50g Butter, Salt and Pepper to season, Pinch of Xanthum Gum.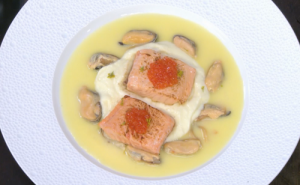 See recipes by James in his book titled: James Martin's Islands to Highlands: 80 Fantastic Recipes from Around the British Isles (with foreword by Tom Kerridge)
available from Amazon
now.