Vick Hope served up a spicy prawn cocktail with a Marie Rose sauce on Ainsley's Food We Love.
The ingredients are: olive oil, half clove garlic, pinch of cayenne pepper, paprika powder, turmeric, ground ginger powder, 8 unpeeled raw tiger prawns, 1/4 iceburg lettuce, 1/4 cucumber, 2 ripe tomatoes, fresh mint, fresh coriander, salad cress, 50g peeled little prawns(cooked), 100g crab meat and 1 lemon.
For the sauce: 1/2 lemon, 2 tbsp brandy, 1 pinch of cayenne pepper, 1 heaped teaspoon of ketchup and 4 tbsp free-range mayonnaise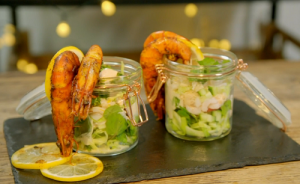 See Ainsley's recipes in his book titled: Ainsley's Mediterranean Cookbook
available from Amazon
now.