Henry Firth and Ian Theasby from (Bosh), served up delicious baked banana bread doughnuts on Living on the Veg.
The ingredients are: 2 small ripe bananas (200g peeled weight), 125g plain flour, 1⁄2 tsp bicarbonate of soda, 1⁄4 tsp salt, 1⁄2 tsp ground cinnamon, 55g coconut oil, 40g coconut sugar, 30g caster sugar, 30ml plant-based milk, 1⁄2 tsp apple cider vinegar, 1⁄2 tsp vanilla extract and 30g sultanas.
For the toppings: 100g icing sugar, 11⁄2 tbsp warm water, a pinch of ground cinnamon, 1⁄4 tsp vanilla extract, 30g pecans and 15g dark chocolate.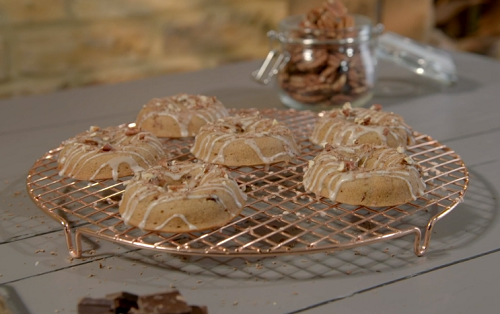 See the recipe in Bosh's book titled: BOSH! Healthy Vegan: Over 80 brand-new recipes with less fat, less sugar and more taste, from the 1 Sunday Times bestselling authors
available from Amazon
now.