Cordial maker Jayne Mugridge who runs Yarty with her husband David from their home, showcased their product range on today's episode of James Martin: Home Comforts.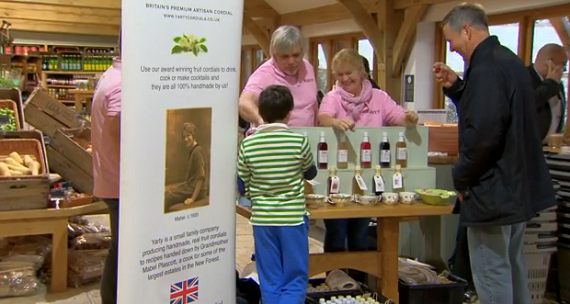 Jayne says: "Cordials are not just for making a delicious drink they are an excellent way of sweetening and flavouring desserts like Ice Cream, Sorbets, Yoghurts, Fools, Trifles and custards. Alternatively a cordial can be used hot or cold as a sauce for a steamed pudding or ice cream. Have a look at our recipe page for some inspiration."
Yarty was started by Jayne, with help from husband David in the Yarty Valley, a stunning valley which runs from the Blackdown Hills to Axminster in Devon.
All their cordials are handmade using old family recipes together with recipes that they created themselves.
Jayne and David change their cordial flavours to match the seasons and fruit availability, and in the winter when there are no soft fruits available, they turn to citrus for their main ingredient.
In today's Childhood Favourites theme episode of James Martin: Home Comforts, Jayne visits James in his Hampshire kitchen, bringing with her a range of cordials for the master chef to choose from when making his raspberry jelly with lime syrup dessert.