John Torode served up a tasty sausage surprise (French cassoulet) with smoked ham hock and beans on John and Lisa's Weekend Kitchen.
The ingredients are: 50ml oil or goose fat, 2 carrots, cut in quarters lengthwise, 3 good-quality frankfurters, 3 pieces of cooked smoked Toulouse sausages, 3 smoked sausages, 3 spiced Sausages, 1 small smoked ham hock, cooked, 2 small onions, sliced, 3 bay leaves, 2 sprigs of thyme, 4 juniper berries (optional), 2 carrots, cut in quarters lengthwise, 1 tin or jar (400g) of butter beans, drained, 1 ton or jar (400g) of cannellini beans, drained, 400g chopped tomatoes, 500ml chicken stock, Salt and ground black pepper.
To serve (optional): New potatoes, Dijon mustard, warmed sauerkraut.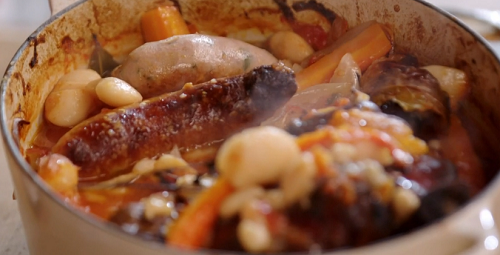 See John's recipes in his book titled: My Kind of Food: Recipes I Love to Cook at Home
available from Amazon
now.