Atul Kochhar served up a tasty lamb with chickpeas curry (Mangsho Ghughni) on James Martin's Saturday Morning.
The ingredients are: 200 grams Chickpeas, Cooked, 3 tbsp Rapeseed oil or Mustard oil, 3 Cloves, 1 Bay leaves, 2 Black cardamom, 1 tsp cumin seeds, ½ tsp onion seeds, 200 grams Onions, sliced, 15 grams Ginger-garlic paste, 1 Tsp Coriander powder, 1 Tsp Red chilli powder, 1 Tsp Cumin powder, 1 Tsp Salt, 200 grams Tomatoes, chopped, 100 gm Baby spinach, 4 Lamb rumps, 150-180Gm each, 2 Tbsp Coriander leaves, chopped and ½ Tsp Garam masala (Bengali).
To finish: 2 tbsp of mixed spices – coriander seeds, cumin seeds, sesame seeds, black pepper, 1 tbsp dijon mustard and Rocket cress for garnish.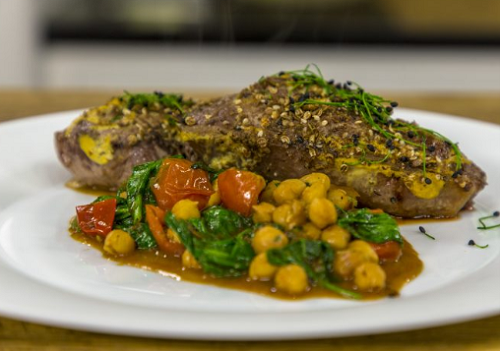 See recipes from James Martin in his book titled: More Home Comforts: 100 new recipes from the television series
, available at Amazon
now.