Levi Roots and Lisa Faulkner served up tasty calypso burgers for the summer on John and Lisa's Weekend Kitchen.
The ingredients are: 6 skinless, boneless chicken thighs, 5 spring onions, roughly chopped, 2.5 tbsp freshly chopped coriander, 1 tbsp snipped chives, 1 tbsp roughly chopped fresh root ginger, 2 garlic cloves, 1 tsp salt, 1 organic egg, 150g fresh mango (cut into small dice), 2 courgettes, Olive oil for brushing, 6 burger buns Juice of 1 lime, 2 large tomatoes (sliced thickly), 1 red onion (peeled and finely sliced – optional) and barbecue or chilli sauce (optional).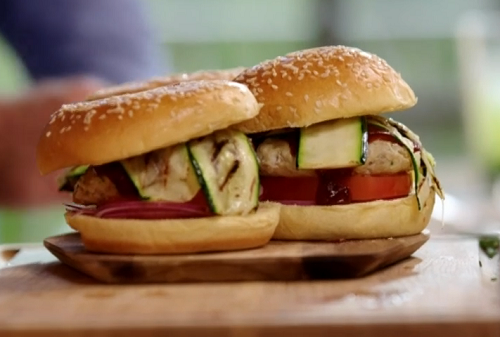 See recipes from Lisa in her book titled: The Way I Cook…
available from Amazon
now.