Allegra Benitah (daughter of Vanessa Feltz) served up tasty tear and share pesto sunflower challah bread on James Martin's Saturday Morning.
The ingredients are: 1 – 1.5 kilos of plain flour (approx.), 1½cups of lukewarm water, 1 portion of fresh yeast (approx. 40g, otherwise 1 tablespoon of active dried yeast), 4-6 tablespoons of caster sugar (plus one more teaspoon to mix in with the yeast), 2 eggs (plus one more egg yolk for the egg wash), 1 tablespoon of salt and ¼ cup of sunflower oil.
For the pesto: 1 large bunch fresh basil, 2 tablespoons extra virgin olive oil, Salt and pepper to taste and Sunflower seeds.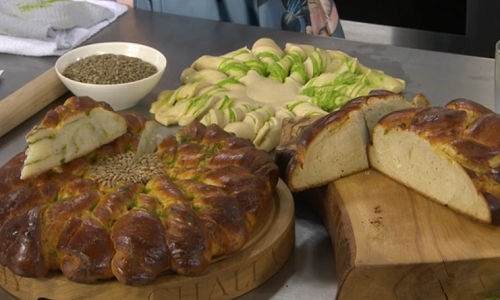 See recipes from James Martin in his book titled: More Home Comforts: 100 new recipes from the television series
, available at Amazon
now.