Italian chef Gennaro Contaldo joins Michel Roux Jr this week in the Food and Drink kitchen to serve up a classic lasagne dish served with focaccia bread made with garlic and rosemary.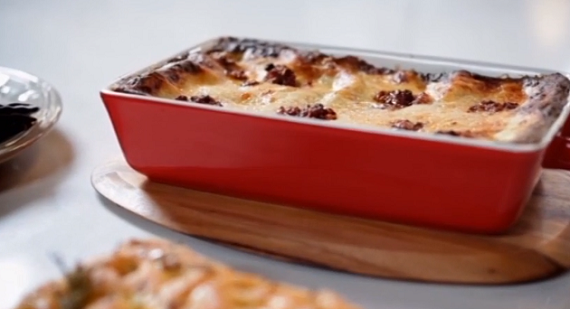 Gennaro says about his classic lasagne: "A combination of pork and beef mince and a glass of red wine make for a flavoursome ragù sauce in this luscious lasagne. Mozzarella and parmesan melt to perfection between ragù, pasta sheets and creamy white sauce."
The ingredients for Gennaro's lasagne ragù sauce: 2 tbsp extra virgin olive oil, 300g beef mince, 300g pork mince, 1 large glass red wine, 1 small onion, finely chopped, 2 carrots, finely chopped, 1 stick celery, finely chopped, salt and freshly ground black pepper and 1 x 400g in chopped plum tomatoes.
For the white sauce: 40g butter, 40g plain flour, 500ml milk, salt and pepper, 100g grated parmesan cheese.
To finish: 8-10 sheets fresh egg lasagne, 1 ball mozzarella.
And about his focaccia bread the veteran chef says: "This bread is delicious eaten on the day it is baked, but it will keep for a few days and you can freshen it up in the oven for a few minutes just before serving. If you cut the squares in half, you can fill with prosciutto or cheese for a different sandwich."