Hong Kong is the location for the Hairy Bikers culinary delights on the first episode of The Hairy Bikers Asian Adventure.
Their menu today included two delicious looking dishes from Cantonese cuisine, lotus leaf wraps and prawn and crab dim sum.
The Hairy Bikers said of their lotus leaf dish: "We love this popular dim sum dish of parcels of steamed lotus leaves filled with sticky rice, Chinese sausages, chicken, pork and vegetables."
To make the lotus leaf wraps they used: 200g sticky rice, covered in water and soaked for one hour, then drained, 4 Chinese dried black mushrooms, 200g skinless boneless chicken thighs, 100g pork loin, chopped into small pieces, ¼ tsp salt, 2 tbsp vegetable oil, 1 garlic clove, chopped, 2 Chinese sausages (lap cheong), 2 tbsp Chinese rice wine, 1 tbsp light soy sauce, 1 tsp dark soy sauce, 1½ tsp cornflour, ¼ tsp sesame oil, freshly ground black or white pepper, and 4 lotus leaves, cut in half.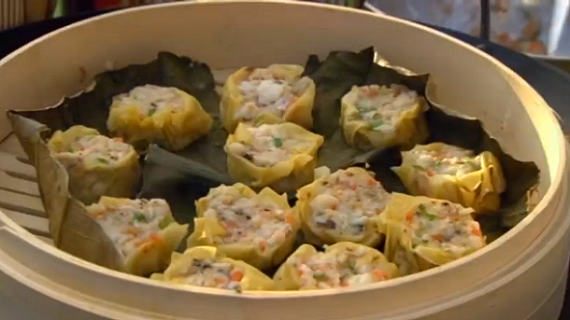 About their prawn and crab dim sum they said: "An assembly of fine flavours and fruits of the sea, these delicious little dumplings are irresistible for any seafood lover."
The ingredients for their prawn and crab dim sum are: 150g raw tiger prawns, 100g fresh white crabmeat, 15g fresh root ginger, 2 garlic cloves, finely grated, 5g dried orange peel soaked in boiling water for 20 minutes, 3 fresh water chestnuts, 3 tsp cornflour, salt and black pepper, 1 small carrot, 2 spring onions, finely sliced, 18 wonton wrappers, vegetable oil, for greasing and soy sauce, for dipping.
See how the bikers make their dishes in the video below: