The Hairy Bikers serves up a delicious looking king prawns and scallop Stir-Fry dish that they managed to cook in about 3 minutes.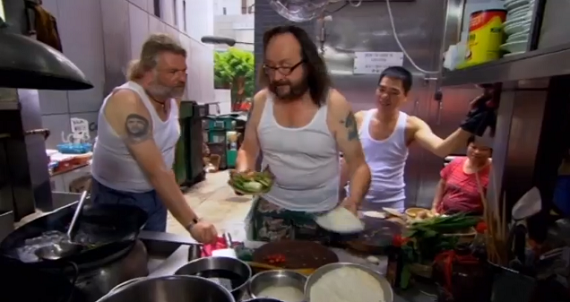 The Bikers says "This superb seafood stir fry is a quick cook, so have all your ingredients prepared before you turn the heat on. Spring onions, garlic and ginger give an authentic Cantonese flavour."
Their ingredients for the dish consisted of: 2 tbsp groundnut oil, 1 garlic clove, thinly sliced,
10g fresh root ginger, cut into matchsticks, 6 king prawns, peeled and deveined, 3 scallops, each cut in half, 1-1½ tbsp Shaoxing rice wine, 1 spring onion, cut into strips, 4 sprigs choi sum, or other Chinese greens, 1 pak choi, cut into 4, 30g mangetout, cut in half lengthways on an angle, ½ red chilli, thinly sliced on an angle, 1-2 tbsp light soy sauce, and 1 tsp sesame oil.
To make the dish, heat the groundnut oil in a wok until smoking.
When hot, add the garlic and ginger cook for one minute, or until soft.
Add the prawns to the garlic and ginger, fry for one minute, tossing the wok or stirring the prawns with a spoon a couple of times.
Season the scallops with salt and pepper. Lay the scallops round the edge of the hot wok, to get a little colour on the sides.
Stir the dish, and then add the rice wine.
Add all the prepared vegetables and gently stir until the choi sum and pak choi have slightly wilted – this will take a further couple of minutes.
Add the red chilli and light soy sauce, to taste.
Drizzle half a teaspoon of sesame oil over each portion then serve.