April Jackson and Simon Rimmer served up a tasty oxtail shepherds pie with salad and Jamaican spices on Sunday Brunch.
The ingredients are: 1kg oxtail, 2 tbsp oil, 2 large onions, chopped, 2 spring onions, chopped, 75ml soy sauce, 4 cloves garlic, chopped, 1 tablespoon ginger, peeled and chopped, ¼ bunch thyme, 2 scotch bonnet peppers, chopped, 1.5 litres water, Salt & pepper to taste, (big pinch of each).
For the mash potatoes: 1.2 kg potatoes, Large knob of butter, 4 garlic cloves, crushed, 2 tablespoons of cream, Salt and pepper, Cheddar cheese, grated.
For the salad: 2 cups frozen peas, 4 carrots, peeled, 2 radishes, sliced, ¼ head of cauliflower, 3 tablespoons olive oil, 3 tablespoons white wine vinegar, 1 lemon, juice, Salt and pepper.
For the gravy (to serve with pie): 25g cup flour, 25g butter and braising liquid from oxtail.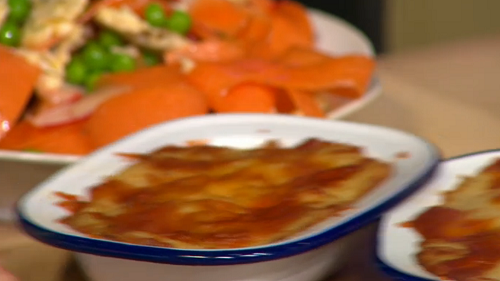 See more recipes from Simon in his book titled: The Accidental Vegetarian: Delicious food without meat
available from Amazon
now.