Jeremy Pang served up tasty black pepper glazed brisket bao ( Chinese burger ) on Sunday Brunch.
The ingredients for the dry mix are: 530g (4 cups) middle-gluten wheat flour (swapsies: plain (all-purpose) flour), ½ teaspoon salt, 7g fast action dried yeast, 40g caster sugar and 15g baking powder.
For the liquid: 50ml milk, 200–250ml (about 1 cup) warm water (depending on how humid your room feels- if the air feels very dry you'll want to add a little more water, but if it is very humid, a little less is required) and 25ml vegetable or sunflower oil.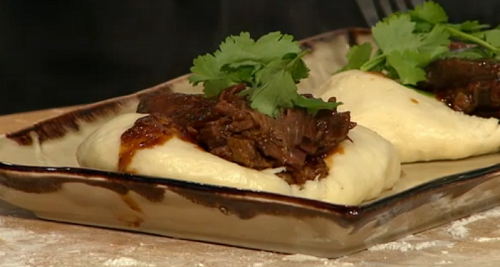 See Jeremy's recipes in his book titled: Hong Kong Diner: Recipes for Baos, Hotpots, Street Snacks and More
available from Amazon
now.