Simon Rimmer served up a delicious Mocha chocolate cake with salted caramel, creme fraiche and fruit on Sunday Brunch.
The ingredients for the sauce are: 100g butter, 100g soft dark brown sugar, 100ml cream, 100ml condensed milk and 10g sea salt.
For the cake: 275g flour, 275g sugar, 90g cocoa powder, 1 tbs fine instant coffee, 2 tsp baking powder, 1 ½ tsp bicarb, 1 tsp salt, 225ml buttermilk, 110ml veg oil, 2 eggs, 2tsp vanilla paste and 150ml boiling water.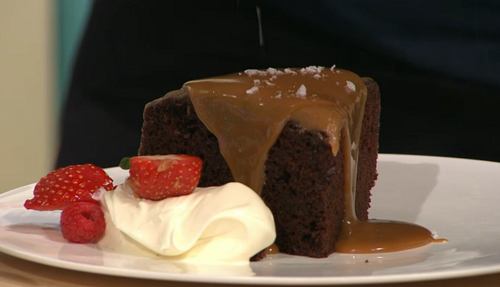 See more recipes from Simon in his book titled: The Accidental Vegetarian: Delicious food without meat
available from Amazon
now.