Prue Leith showcased her raspberry blancmange and langues de chat biscuits on the Great British Bake Off 2018.
The ingredients are: 8 gelatine leaves, 750g raspberries, 50ml raspberry liqueur, 25g cornflour, 300ml whole milk, 150g caster sugar, 40g ground almonds, 1 tsp almond extract, 450ml double cream and crystallised rose petals, to decorate.
For the langues de chat: 40g unsalted butter, softened40g icing sugar, 1/4 tsp almond extract, 1 large egg white, 40g plain flour, pinch of salt, 150g good-quality white chocolate, melted and green cocoa butter .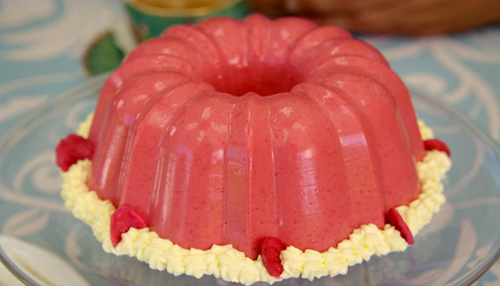 See the recipe in Prue's new book titled: Prue: My All-time Favourite Recipes
availabke from Amazon
now.