Lisa Faulkner returns to This Morning in her Comfort Cottage segment, to serve up a Sunday lunch special, Lamb Shank pie and chocolate pavlova for dessert.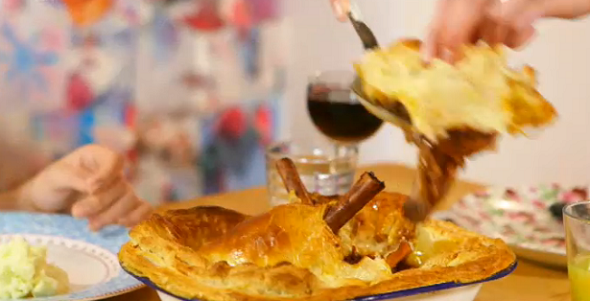 To make her chocolate pavlova, Lisa used: 4 egg whites, salt, 200g caster sugar, 2 tablespoons coca powder, sifted, 1 teaspoon malt vinegar, 200g dark chocolate, chopped, 400 ml double dream.
With the ingredients, whisk the egg whites with the salt in a large clean bowl, until very stiff and then gradually whisk in the sugar.
Gradually fold in the cocoa powder, then the vanilla extract and the vinegar.
Spread the meringue mixture over the circle on the non-stick paper and bake in the preheated oven at 140c for one hour, until firm.
Turn off the oven and leave the meringue in for another 30 minutes with the door closed. Leave the meringue to cool and then very carefully peel off the baking paper from the bottom. Place the pavlova on a serving plate.
Meanwhile, put the chocolate and 100 ml of the double cream in a heatproof bowl and place over a pan of simmering water (making sure the bowl doesn't touch the water). Melt the chocolate and cream together, stirring until smooth. Leave to cool down to room temperature.
Whip the remaining cream and spoon over the meringue. Drizzle the chocolate sauce over the top and then use a skewer or the handle of a teaspoon to swirl and marble the chocolate through the cream.