On today's Food & Drink, Michel Roux Jr makes a delightful autumnal dessert to grace any meal with Bramley apple puree to achieve the best apple flavour.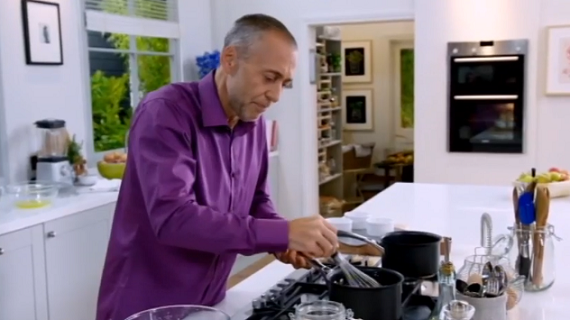 For his ingredients Michel used:
175ml milk, 1 split Vanilla pod, 4 Egg Yolks and 4 Egg Whites, 35g Sugar, 40g Caster Sugar, 25g Plain Flour and 2tbsp Puréed Apples.
To make the soufflé, separate the eggs – crack each egg in half and tip the contents between the two shells, allowing the whites to slide through into the bowl beneath while the yolks stay in the shells.
Put four egg whites into a large bowl and the yolks into a separate small bowl.
Create a Crème patissiere mixture by adding the caster sugar to the small bowl with the egg yolks and whisk.
Add the flour and continue to whisk to a smooth paste.
Heat the milk, sugar and vanilla pod in a pan and bring to the boil.
Once started to boil remove from the heat and slowly whisk into the mixture.
Remove the vanilla pod and pour the mixture into the pan the milk was heated in, then put back on the heat and whisk being careful not to let it burn.
Put the mixture into a bowl and allow to cool.
Meanwhile, use unsalted butter to coat your soufflé dishes thoroughly, and then add a dusting of sugar to allow the soufflés to rise evenly.
Add the apple purée to the Crème patisserie and mix well on till it is really smooth with no lumps.
Mix the egg whites into a thick foam then add caster sugar and continue to whisk until the mixture is soft and fluffy.
Put a third of the egg whites into the Creme patissiere and mix quickly to prevent the egg whites collapsing. Then add the remaining egg whites and gently fold into the mixture.
When mixed add a large spoonful of the mixture into each soufflé bowl. Then add a ginger biscuit soaked in alcohol (optionally) before filling the bowls with more of the mixture and knock the bowls to remove air bubbles.
Bake into a preheated oven at 200C for about 10 minutes.