Simon Rimmer and Adam Lambert served up a delicious mango coconut mousse with granola crumb on Sunday Brunch.
For ingredients are: 3 mangoes, chopped, juice n zest 1 lime, 125g top thick part of coconut milk (2 cans), 2tsp agar-agar dissolved in approximately 125ml boiled water and 2 tsp maple syrup.
For the topping: 100g rolled oats, 25g chopped hazelnuts, 15g chopped pecans, 15g raisins, 10g desiccated coconut, 75ml maple syrup, 25g demarera sugar, 2 sliced bananas and 50g blueberries.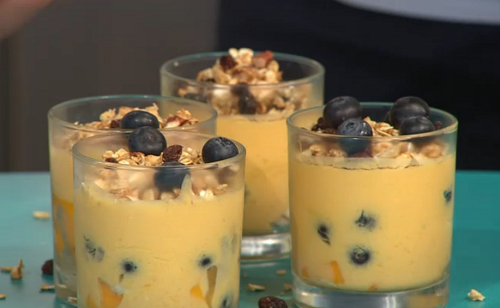 See more recipes from Simon in his book titled: The Accidental Vegetarian: Delicious food without meat
available from Amazon
now.