Simon Rimmer served up delicious Grasshopper brownies with mint cream on Sunday Brunch.
The ingredients for the brownies are: 225g 70% dark chocolate, 125g butter, 2 eggs, 100g sugar, 100g light brown sugar, 1 tsp vanilla paste, 60g flour, half tsp baking powder, 25g cocoa and pinch salt.
For the mint cream: 115g butter, 30g full fat cream cheese, 20ml creme de menthe, ½ tsp peppermint flavouring, ½ tsp green food colouring and 250g icing sugar.
For the topping: 175g choc, 60ml cream and 30g butter.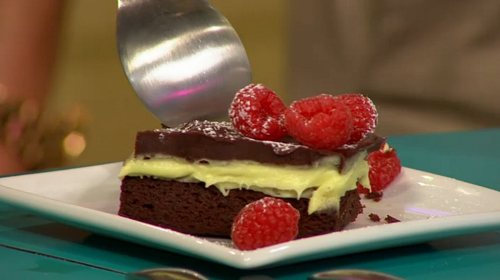 See more recipes from Simon in his book titled: The Accidental Vegetarian: Delicious food without meat
available from Amazon
now.