Mary Berry joins Michel Roux Jr in the Food and Drink kitchen to serve up a hearty looking fish pie with soufflé crouton topping.
Mary's recipe is a classic pie of fish in white sauce, topped with a simple bread and soufflé style topping that makes use of stale bread and left over vegetables.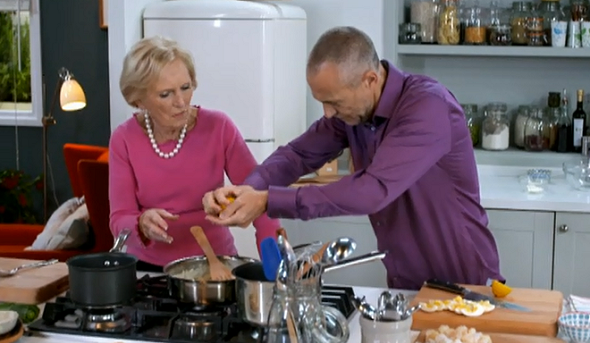 To make Mary's fish pie, melt 40g butter in a saucepan, add a thinly sliced leek and gently soften over a low heat until completely tender but not coloured.
Sprinkle in about 30g flour and stir over a high heat for a minute. Gradually pour in 300ml of hot milk, stirring all the time until the sauce is smooth, thick and has come to the boil. Remove from the heat and add chopped dill, lemon juice, 250g of white fish that has been skinned and cut into evenly sized cubes with salt and pepper.
Cook the dish for about two minutes, then remove from the heat and add 2 hard-boiled eggs.
Spoon the mixture into an ovenproof dish, then level the top and set aside until cold before covering and chill in a fridge for about an hour.
For the soufflé topping, remove the crusts from half a loaf of white stale bread and discard. Cut into five slices then cut each slice into small cubes.
Add 50g of cream cheese, 75g of butter and the same amount of cheddar to a saucepan, melt over a low heat until it forms a runny mixture.
Whisk 1 large free-range egg white then fold into the cheese mixture in the saucepan then season with salt and pepper and stir.
Stir in the bread cubes so they are all coated in the mixture then spoon on top of the fish mixture so the cubes are in a single layer.
Bake in a preheated oven at 200C for 25-30 minutes until golden-brown and bubbling.