This Mexican-influenced soup garnished with baked tortillas is a real winter warmer. The Hairy Bikers say it is a great way to use up leftover turkey this festive period when you are Home for Christmas.
The ingredients are: 500g ripe tomatoes, ½ head garlic cloves, unpeeled, 2 dried ancho chillies, 2 tbsp olive oil, 2 red onions, cut into thin wedges, 1 red pepper, diced, 1 green pepper, diced, 2 sticks celery, sliced, 2 tsp ground cumin, large sprig thyme, 2 bay leaves, 1 tsp dried oregano, small bunch coriander, stems and leaves separated, 1.25 litres turkey stock, 250g cooked black beans, 250g sweetcorn, salt and freshly ground black pepper, 300g cooked turkey meat, cut into strips, 1 lime, juice only (optional).
For the garnish: 6-8 corn tortillas, cut into wedges or strips, 2 tbsp olive oil, 2 avocados, peeled, stones removed, diced, 1 lime, juice only, salt, to taste, 3-4 spring onions, finely sliced and 100g grated hard cheese.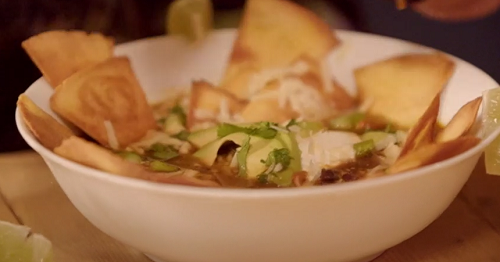 See more recipes from the bikers in their new book titled: The Hairy Bikers' Mediterranean Adventure: 150 easy and tasty recipes to cook at home
, available from Amazon
now.