Juliet Sear served up a magical reindeer dark chocolate orange cake for the festive season on This Morning.
The ingredients are: for the chocolate orange sponge:
400g soft unsalted butter, 560g light muscovado sugar. 8 medium eggs, beaten, 320g plain 70% choc chips or chunks broken, melted and cooled, Finely grated zest of two medium oranges and 275g plain flour.
For the chocolate orange buttercream filling and coating:
225g plain dark chocolate (70%), 75 ml double cream, 500g soft unsalted butter, 1kg of unrefined icing sugar, sifted and Zest of 2 oranges.
BISCUIT ANTLERS AND EARS (this makes plenty, any excess can be used to make little biscuits or be frozen and used at a later date)
200g soft butter, 200g light muscovado sugar, 1 large free range egg, 375g plain flour, 1 tbsp ground ginger, half a teaspoon of cinnamon, a large pinch of ground cloves and wooden lollipop sticks, kebab skewers or cocktail sticks.
To decorate: 200g white and 200g red ready to roll sugar paste, 50g green ready to roll sugar paste, Small ball yellow ready to roll sugar paste, Edible gold glitter or shimmer spray and 2 tsp cocoa powder.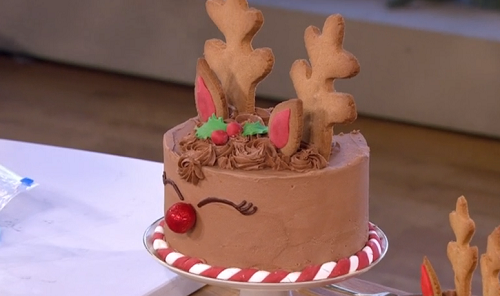 See more great cake recipes from Juliet in her book titled: Cakeology: Over 20 Sensational Step-By-Step Cake Decorating Projects
, available from Amazon
now.