Simon and Dave served up a bang bang turkey salad with peanut sauce on The Hairy Bikers Home for Christmas.
The ingredients are: 1 tbsp soy sauce, 1 tbsp lime juice, pinch palm or light soft brown sugar, pinch hot chilli powder, pinch Chinese five-spice powder and 250g cooked turkey meat, preferably breast, in long strips.
For the peanut sauce: 1 tbsp vegetable or groundnut oil, 2 shallots, finely chopped, 3 garlic cloves, crushed or grated, 5cm piece fresh ginger, peeled and grated, 2 red chillies, seeds removed (according to taste), finely chopped, 200ml turkey (or chicken) stock, 150ml coconut milk, 75g crunchy peanut butter, 2 tbsp soy sauce, 1 tbsp rice wine vinegar, 1 tsp palm sugar or soft light brown sugar, 1 tbsp kecap manis (optional) and 1 tbsp lime juice.
For the salad: 1 large Chinese lettuce or cabbage, shredded, 1 large carrot, julienned, 1 large courgette, julienned, small bunch radishes, cut into matchsticks, 1 red pepper, cut into thin strips, 4 spring onions, halved lengthways and cut into thin strips.
To serve: 2–3 red chillies, sliced, small bunch fresh coriander, few fresh mint leaves and 1 tbsp roasted, unsalted peanuts, lightly crushed.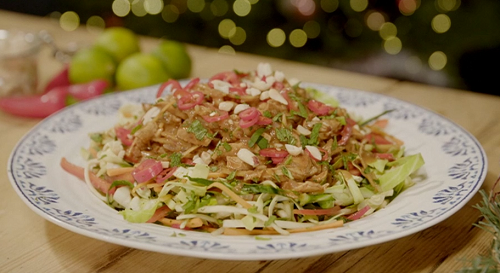 See more recipes from the bikers in their new book titled: The Hairy Bikers' Mediterranean Adventure: 150 easy and tasty recipes to cook at home
, available from Amazon
now.