Prue Leith showcased her Belgian les miserable sponge cake slices on The Great British Bake Off 2017 semi final. Prue set the semifinalist the task of making the les miserable slices to her recipe for this week's technical challenge.
The cake is made with a pistachio and lemon sponge and is filled with buttercream made by whisking hot sugar syrup into an egg yolk foam, known as a pâte à bombe.
The ingredients are: vegetable oil, for greasing, 225g ground almonds, 225g caster sugar, 5 large eggs, 5 large egg whites, 50g plain flour, sifted, 35g unsalted butter, melted, finely grated zest of 2 lemons, 25g pistachio paste, ½ tsp almond extract and leaf green food colouring.
For the buttercream: 6 large egg yolks, 190g caster sugar, 60ml water, 300g unsalted butter, softened, 1 tsp vanilla bean paste and 10 firm raspberries.
For the syrup: juice of 1 lemon, 2 tbsp water and 50g sugar.
For the decoration: 200g dark chocolate chips, 54% cocoa solids, freeze dried raspberries, for dusting and 5 firm raspberries, halved.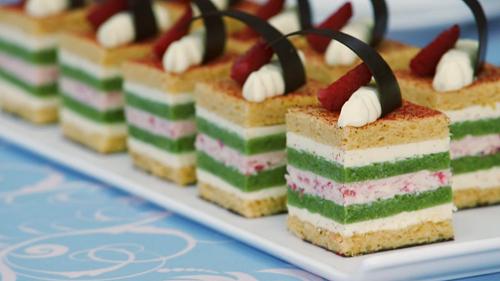 Prue's new book titled: Relish: My Life on a Plate
, is available from Amazon
now.
See recipes from Prue in her book titled: Leiths Cookery Bible
, available from Amazon
now.