Simon Rimmer served up Korean Meatloaf with mash on Eat the Week with Iceland.
The ingredients are: 2 onions (diced), 2 cloves of garlic (chopped), 150g chestnut mushrooms (sliced), 1 red pepper (diced), 2 eggs, 500g minced beef, 400g minced pork, 1 tomato (diced), 150g tinned corn, 150g fresh breadcrumbs (not panko), 50ml soy sauce, 50g Korean Gochujang paste, 10g smoked sea salt, 5g ground white pepper, 10g flat leaf parsley (chopped) and 450g streaky smoked bacon (stretched).
For the mash: 300g mashed potatoes, 300g mashed sweet potatoes (roast the sweet potatoes, then scoop out the flesh), 150g butter and 15g chives (snipped).
For the sauce: 100ml light soy sauce, 200ml chicken stock, 30mm piece ginger (grated), 5g chilli flakes, 100g soft dark brown sugar, 100ml rice vinegar and 50g honey.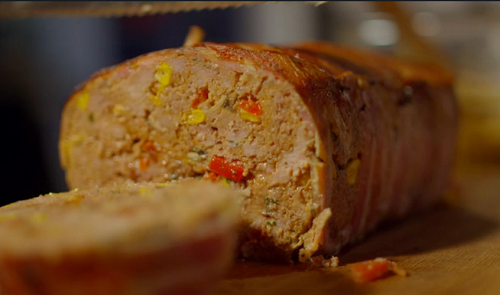 See more recipes from Simon Rimmer in the book titled: Something for the Weekend: 60 fabulous recipes for a Lazy Brunch
, available from Amazon
now.