Mary Berry's streusel traybake recipe is a very quick and easy way to produce some delicious Christmas treats for all the family.
The cooked mincemeat streusel freezes very well, so it would be a good idea to make plenty to keep for the days when you fancy a little treat but have no time to make them.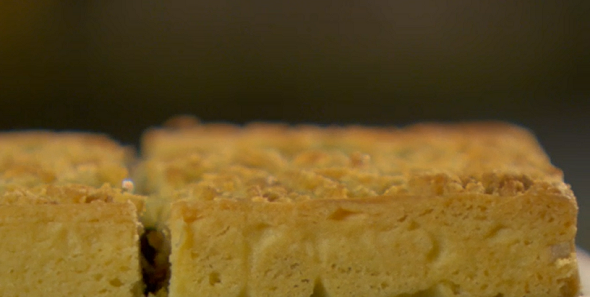 To make her streusel, Mary place currants, raisins, sultanas, cranberries, apricots, mixed peel, apple, butter, almonds, sugar, cinnamon, mixed spice, lemon zest and juice into a large pan and cooked over a low heat, stirring occasionally for about 10 minutes.
She removes from the heat, leaving it to cool, then stirred in the brandy.
Mary preheats her oven to 200C and greased her baking tin with butter.
To make the pastry, she sifts flour and icing sugar into a mixing bowl and rubbed in butter until the mixture resembles coarse breadcrumbs.
She then grate the topping over the mincemeat and spread evenly before putting it in the oven for about 20-25 minutes, or until golden-brown.
Once bake, Mary cuts it into slices, and dusted with icing sugar.
Mary serves her mincemeat streusel warm with cream or brandy butter.