Dale Pinnock served up a chicken curry sauce using sweet potato together with a pasta and vegetable dish for the Harling family on Eat, Shop Save.
Dale says: "If you want to get more nutrients into your children food, a good way is to hide vegetables in a sauce, then blend it so they don't know any different."
The ingredients are: 3 tbsp. olive oil, 2 ½ large red onions, finely chopped, 5 cloves of garlic – finely chopped, 800g chopped tomatoes, 800g chickpeas, 5 tbsp. pitted black olives, roughly chopped, 1 ¼ large sweet potato – chopped, skin-on, 600ml vegetable stock, Chorizo (Optional) and pinch of sea salt.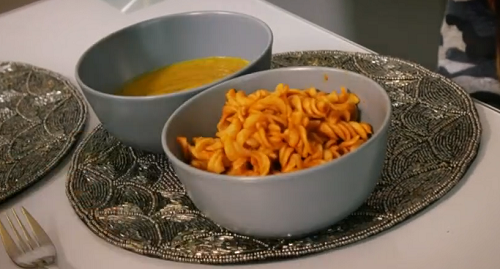 See Dale's recipes in his book titled: The Medicinal Chef: How to Cook Healthily: Simple techniques and everyday recipes for a healthy, happy life
, available from Amazon
now.