Ching put a Chinese twist on the humble chicken Caesar salad on today's episode of Lorraine.
The ingredients for the Marinade are: 2 chicken breasts, sliced into finger strips, 2 cloves garlic, minced, 2 tbsp oyster sauce, 1 tbsp less salt light soy sauce, 1 pinch of chilli flakes and 1 tsp Chinese five spice.
For the Seasoning: 100g plain flour, seasoned with a pinch of sea salt flakes, ground white pepper, Chinese spice, dried chilli flakes, 2 eggs, lightly beaten, 100g panko bread crumbs or regular breadcrumbs and Olive oil spray (1 calorie per spray).
For the Dressing: 1 tbsp Dijon mustard, 1 tbsp less salt light soy sauce, Juice of 1 lemon, 1 tbsp mayonnaise, 1 pinch of cracked black pepper and 3 tbsp extra virgin olive oil.
For the Salad: Romaine lettuce leaves and Large handful baby spinach leaves (optional).
Optional to serve: Minced anchovy fillets, Croutons, Parmesan cheese shavings and Cherry tomatoes.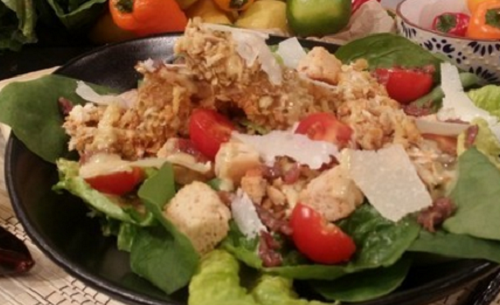 See more recipes from ching in her book titled: Ching's Chinese Food in Minutes
, available from Amazon
now.