Fearne Cotton served up delicious chocolate toffee truffles together with Christmas pud energy balls for her guilt-free Festive treats on This Morning.
The ingredients for the Christmas pudding energy balls: 100g raisins, 40g dried cranberries, 1 tablespoon room temp coconut oil ( soft not melted), Splash almond essence, 2 tsp mixed spice and 40 g almonds.
For the topping: 100g cashews, 60g room temp coconut oil, 3 tablespoons oat milk, Dash vanilla and 1 table spoon set honey.
Mint leaves and dried cranberries, to decorate.
The ingredients for the chocolate toffee truffles are: 12 unsulphured dried apricots, 40g raw almonds, 1.5 tbsp almond butter and 2 tbsp coconut oil.
For the chocolate coating: 80g dark chocolate (minimum 70% cocoa solids), Sunflower oil for greasing and Edible glitter, for sprinkling (optional).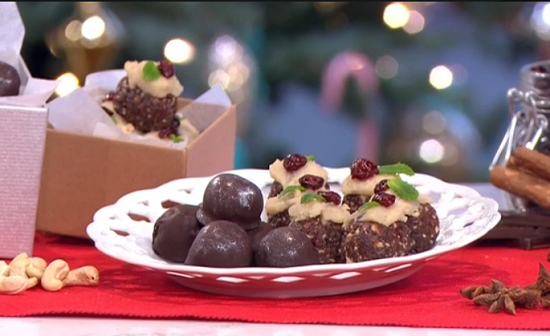 The recipes can be found in Fearne's new book titled: Cook Happy, Cook Healthy
– available from Amazon
.