Levi Roots brought a taste of the Caribbean to Paul Hollywood's kitchen on today's episode of Paul Hollywood Pies and Puds.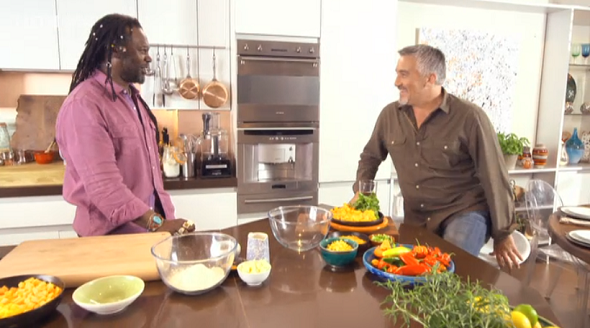 The cook, musician and businessman who gain fame after appearing on Dragons Den, served up a Caribbean saviour fast food, the patty.
However, before he got down to the business of cooking, Roots had to remove all the bling from his fingers. And believe me, there was much to be removed. I think someone should have told him to remove them before he came on camera, but I guess he's rich enough now to afford a security guard to protect all his bling – I guess some people just like to show their wealth.
Anyhow, back to his food. Roots shared the history of the patty with Paul, he told the master baker that Lord Falmouth brought the Cornish pasty to Jamaica where it was given a bit of a makeover. The shape was changed, so too were the spices and other ingredients and the bake given a new name; the humble Cornish pasty became the Jamaican patty and now widely known outside Jamaica as the Caribbean patty.
Roots also revealed that he conducted a recent taste test in Cornwall to see if the locals preferred their original pasty or its new cousin the Caribbean patty. He confirmed that the patty won because the locals like its shape and smaller size.