X Factor girl group Miss Dynamix has not had the best of times on The X Factor live shows recently.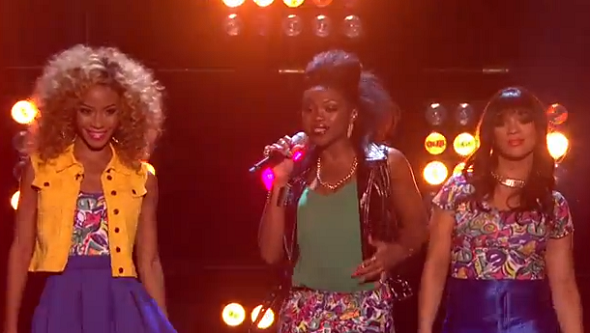 Last week one member of the group – Sese Foster – became ill and as a result the band could not perform on the live show. This caused resentment from some members of the public who believe the other two girls should have performed as a duo.
This week the band became the third act to end up in the bottom two as a result of the Saturday night's Flash Vote, and now controversial Apprentice star Kate Hopkins who recently attacked the author of the Harry Potter novels, JK Rowlings for saying she was proud of once being a single mum on benefits, has attacked the girls on Twitter with an uncomplimentary remark. She tweeted:
"Miss Dynamix's maternity leave will be starting sooner than they thought. The tax payer is very much looking forward to funding it."
On hearing the news of their possible exit on Sunday night, band member Jeanette Akua admitted:
"We're Speechless. I think we have an advantage to whoever gets tomorrow, tonight we aren't sleeping we are just practicing our save me song."
Last week the girls mentor Gary Barlow, predicted this very outcome, he said on last week's show that the absence of Miss Dynamix could affect their votes and he was worried that their non show could lead to elimination this weekend.