Tamera Foster is tipped as one of the favourites to win The X Factor this year and the 16-year-old singer from Kent, must be hoping the bookies are right when she stepped out to perform on the first live show tonight.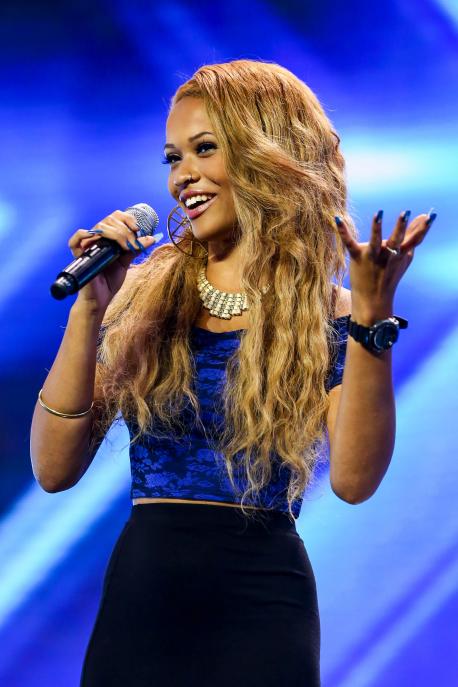 Tamera is one of the three girls in the girl's category this year mentored by Nicole Scherzinger. The other two are Aby Alton and Hannah Barrett.
Nicole won the show last year with James Author, and is hoping to make it two wins in a row with one of her girls.
Tamera  admitted to metro news this week that Nicole Scherzinger's no-nonsense pep-talk at judges' houses gave her the boost she needed to succeed. But she will have to do battle each week with the other talented singers this year for a place in the final to ensure real success is actually achieved.
Tonight Tamera will hope that her performance of 'Ain't Nobody', the 1983 hit by Rufus & Chaka Khan will impress the public enough to get the votes she needs to stay on course for success.
Tamera looked every inch the star when she stepped out on the stage. Her vocals were near perfect, her dance moves looked natural and after this performance we would be shocked if she was in the bottom two on Sunday.
This is what the judges had to say about her performance:
NICOLE SCHERZINGER: "You have grown so much in such a short amount of time. You are a force to be reckoned with, seriously. I was so proud of you up there and you proved it to yourself tonight. Good job!"
LOUIS WALSH: "If we are looking for an out of the box pop star with an amazing image, that's you. You have all the moves, the great look and the voice. Well done missus."
GARY BARLOW: "We are looking for someone that can sell millions of records all over the world, someone that looks like a pop star. It's you right there. You have the X Factor, you really do and I thought it was a great start for you this evening, well done."
SHARON OSBOURNE: "You are very exotic, you have an exotic name, you look exotic and you sing pretty damn good as well!"